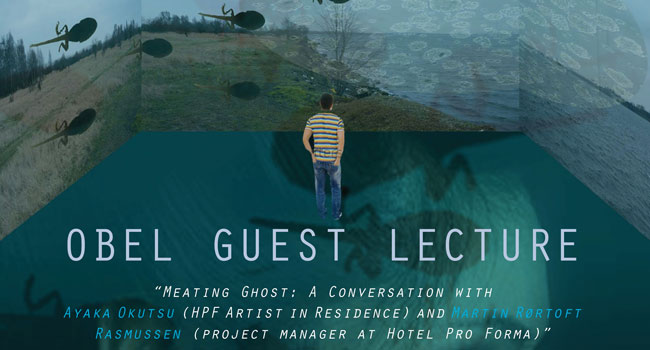 Meating Ghost - A Conversation with Ayaka Okutsu (HPF Artist in Residence) and Martin Rørtoft Rasmussen (project manager at Hotel Pro Forma)
Obel Guest Lecture announces: Ayaka Okutsu, artist-in-residence at Hotel Pro Forma, to discuss her new work, Meating Ghost - A multimedia installation at Hotel Pro Forma.
Time
11.04.2014 kl. 16.15 - 18.15
Description
Ayaka Okutsu: My work challenges the limit and possibility of human sense. With the help of digital manipulation, I am making a work of art that creates artificial impairment in hearing and seeing. The audience are questioned what our actual experience mean in our life and art viewing.
For Hotel Pro Forma, I am producing a video installation that takes a style of story telling with singing voice, but the sound and picture will be manipulated according to the different development in the sense of human and frog* in different stage of their life. The audience will experience a life going through different perceptions. All digital manipulation and binaurallyrecorded sound creates uncanny sense of dimension and physicality. The reality and the experience are unsynchronized.
*Frog is chosen to represent the example of body development in different animals. Not only it´s mind opening to experience how other animals see and hear the world, but I would like to give awareness of how our body is designed according to our social skills and the geography/architecture of our living space. Read more about Hotel Pro Forma and Artist-In-Residence International program for artists.

Photo Credit: Joe Kake
Host
Art & Technology and the Obel Family Foundation
Address
Tegnesalen, Toldboden, Strandvejen 1, 9000 Aalborg