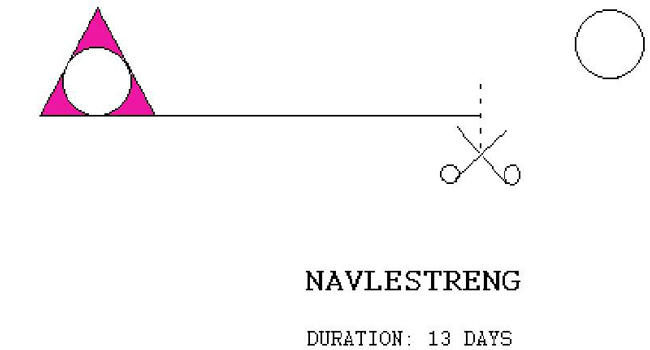 The 6th performance of RULE PINK: NAVLESTRENG
NAVLESTRENG is a Long Duration Performance Installation in the aula and the 2nd floor of the CREATE building by Michael Richardt and with 13 special deliveries by Malou Gabriella Abrahamsen.
Time
25.10.2016 kl. 15.45 - 07.11.2016 kl. 16.05
Description
Iridescence follows the trail of the Pink chord. Stella is the nurture. As he climbs the stairs and retrieves back down into the root, for water and fresh air. Stella, wearing her pink cape, brings nutrition to Iridescence every day at 13.00. For 13 days this shall be. 13 is the lucky number of Stella's mother. She was also the one, who cut Iridescence's NAVLESTRENG.

CONCEPTION (vernissage): 25th of October 2016
15.45 Opening Speech by Falk Heinrich, PhD Interactive Installation Art
16.00 Conception (Stella initiates - Iridescence boards the installation)

CUT THE CORD (finissage): 7th of November 2016
16.00 Cut the Cord (Iridescence leaves the installation)
16.05 Closing Speech by Signe Højmark, Cultural Councilor and Project, Manager at LAND-SHAPE, KulturKANten
For the users of the CREATE-building, the performance is 24 hours a day.
Everyone else is welcome during the following hours,
Mon – Thur: 7.30 – 15.30, Fri: 7.30 – 15.00

NAVLESTRENG is a part of the Art and Cultural Project RULE PINK, in which the Artist Michael Richardt and his mother perform a series of performances in the 37 cities in which, Malou Gabriella Abrahamsen has lived. In North Jutland Malou has lived in Hirtshals, Aabyen, Hjørring and Aalborg. Aalborg is the 6th Performance in the series. NAVLESTRENG is a direct continuation of the Long Duration Performance Installation, executed in 2012, in Nordkraft, Aalborg. RULE PINK par 1, The Pool of Pink Within is Blood. Here the mission was to transport all matter from Pink Square to Silver Frame. Mission was completed. In 2014 The Silver Frame, transformed into an access denied during the European Science Convention, in Copenhagen. NAVLESTRENG is what remains, a state while growing. RULE PINK is funded by KulturKANten - the cooperation between art councils in Northern Jutland and the Danish Art Council.
RULE PINK is a portrait of the artist's Mother. DADA is the portrait of his Father. Iridescence is the hyper surface structure, like mirror peddles reflecting light into the ray of the seven colors visible to the human eye.
"As I evaporate into the absence of RULE PINK, I enter DADA, and I shall be found only in the words and sentences of thou great book"
Address
CREATE, Rendsburggade 14, 9000 Aalborg.