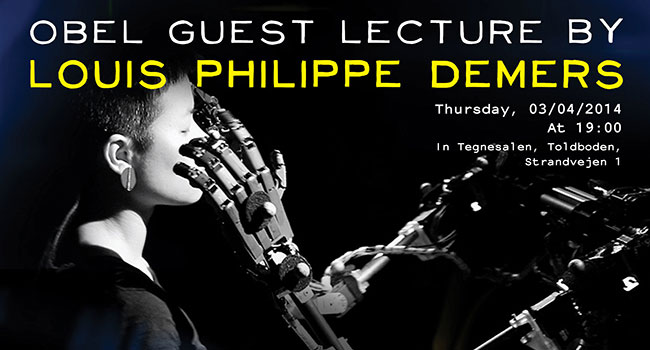 Lecture by Louis Philippe Demers: Comparing Embodiment in Robotics and the Arts
Louis-Philippe Demers makes large-scale installations and performances. His projects can be found in theatre, opera, subway stations, art museums, science museums, music events and trade shows. Over the past two decades, he participated in more than seventy artistic and stage productions and has built more than 300 machines.
Time
03.04.2014 kl. 19.00 - 21.00
Description
Demers' works have been featured at major venues such as Theatre de la Ville, Lille 2004, Expo 1992 and 2000, Sonambiente, ISEA, Siggraph and Sonar. He received five mentions and one distinction at Ars Electronica, the first prize of Vida 2.0, mentions at Vida 12.0 and 15.0, a recommendation at the Japan Media Arts Festival, the Interactive prize for Lightforms 98 and six prizes for Devolution including two Helpmann Awards.
Demers was Professor of Digital Media and Exhibit Design/Scenography at the Hochschule fuer Gestaltung Karlsruhe, affiliated to the world renowned Zentrum fuer Kunst und Medientechnologie (ZKM, Germany). Since he joined the Interaction and Entertainment Research Centre and the newly founded School of Art, Design and Media at the Nanyang Technological University. Read more about Louis-Philippe Demers.
Host
Art & Technology and the Obel Family Foundation
Address
Tegnesalen, Toldboden, Strandvejen 1, 9000 Aalborg