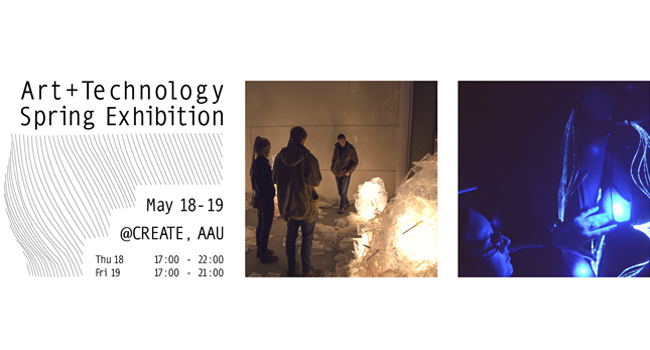 Art and Technology Spring Exhibition 2017
The Art & Technology Spring Exhibition is coming up, and we are excited to invite you all
Time
18.05.2017 kl. 17.00 - 19.05.2017 kl. 21.00
Description
The Art & Technology Spring Exhibition 2017
The Spring semester exhibition of Art and Technology student projects are as following:

For the second semester project the students are creating light installations with the purpose of exhibiting at the Cultural Summit 2017 in Mors. The projects theme is performative spaces and technology, with a focus on lights.

The forth semester students are working with the theme of place and space of embodied interaction with the basis in the anticipated transformation of Stigsborg. Students are presenting interactive public art installations that can be seen in the public-urban environment of Stigsborg harbour area in Nørresundby and the Create building at Rendssburgade.

And lastly for their final project the sixth semester students are presenting their bachelor projects. The theme "Art as Experience" guides the students to use the knowledge they gained to create a media artwork with the purpose of creating an experience.

The exhibition will be held May 18th from 17:00 till 22:00 and May 19th from 17:00 till 21:00 at the Create building, Rendsburggade 14.
Price
Free to All
Address
Rendsburggade 14, 9000 Aalborg, CREATE AAU
More information