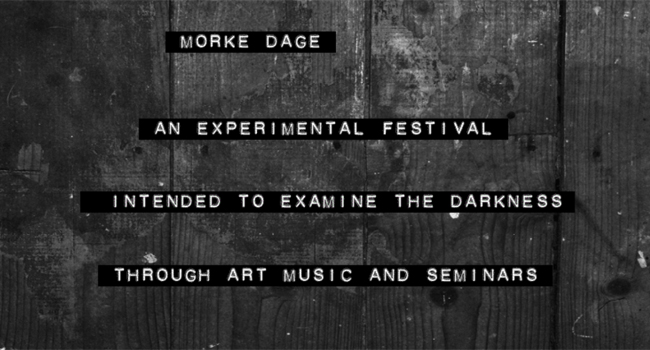 Mørke Dage
Mørke Dage - an experimental festival intended to examine the darkness through art, music, and seminars.
Time
23.10.2015 kl. 09.46 - 25.10.2015 kl. 09.46
Description
Mørke Dage is a total-installtion of music, performances, seminars, discussions, and art exhibitions - photopgraphy, painting, sculpture, interactive installations, sound art, film art, 3D-installations, textile installation & poster design. The aim of Mørke Dage is to examine and give space to darkness and the forces often associated negatively in our society.
We are curious about darkness. Why do we have this entity of our live and why is it often associated with something negative? we are inviting you to join us in this examination. We want to create a space for the unpleasant, the noisy, the anger, the melancholy, the solitude, the fragile, the occult, and what else must be hiding in the shadows. Mørke Dage is an experiment that seeks to push the traditional ways of experiencing art, music or seminars to see how they can contribute to each other in new constallations.
Price
Presale: partout DDK 150,- Friday: DDK 90,- Saturday DDK 120,- Doors: Partout DDK 250,- Friday DDK 120,- Saturday DDK 150,- Check the website www.morkedage.com for more infomartion on ticketsale
Address
Lindholm Brygge 9
More information